Shehu Sani, a former Nigerian Senator has reacted after America announced that its president, Joe Biden was going to pay a visit to Buffalo, a scene where ten people were killed in America.
While reacting to the news, Senator Shehu Sani revealed that the American president was not sending vice neither is he busy.
Shehu Sani is commending the effort of the American president for visiting a scene where ten people were killed. He specifically pointed out the fact that the president was not sending his vice as some presidents would have done neither did he claim to be busy as the president of America.
Check out his post here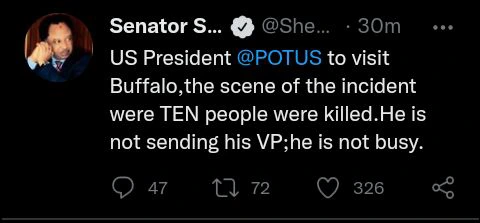 Presidents of countries are usually busy with different activities such as diplomatic meetings, conventions and so on. Some presidents usually send their vice to represent them in some functions while they attend to the important ones. But American president Joe Biden didn't send his vice to the scene, instead he is planning to go there himself. That shows how much value and love the American president has for his people.
Upload Your Song
Click here to see more post about 👇
Be the first to comment