Prostitution:See the number of Nigerian girls arrested in Ghana
Twelve young ladies aged between 20 and 35 who were arrested in Ghana for engaging in prostitution in a region of the country were on Thursday, March 24, deported to Nigeria by the country's Immigration after they were handed over by the police, it was gathered on Thursday.
The ladies, said to have been arrested in Ho, Volta's regional capital, were found to be Nigerians and they all did not have any documentation to justify their stay in Ghana during their interrogation by the police.
The names of the ladies were given as Flourish Sampson, aged 25; Gifty Blessing, aged 26; Gloria John, aged 25; Blessing Sunday, aged 23; Chiamaka Okulen, aged 23 and Sonia Amaka, aged 24.
Others were Tosin Ada, aged 35; Rachael Francis, aged 24; Grace Paul, aged 28; Annabel John, aged 20; Juliet Chiamaka, aged 25 and Joy Martin, aged 20.
According to reports from Daily Guide of Ghana, an online news agency in Ghana posted on its website and Twitter handle on Thursday, their arrest was announced by the Public Relations Officer of the Volta Regional Police Command, DSP Efia Tenge, who explained that upon their arrest, all of them were screened.
According to the police PRO, after the screening, they were handed over to the Ghana Immigration Service (GIS) for further investigation and verification of their documentation and other protocols.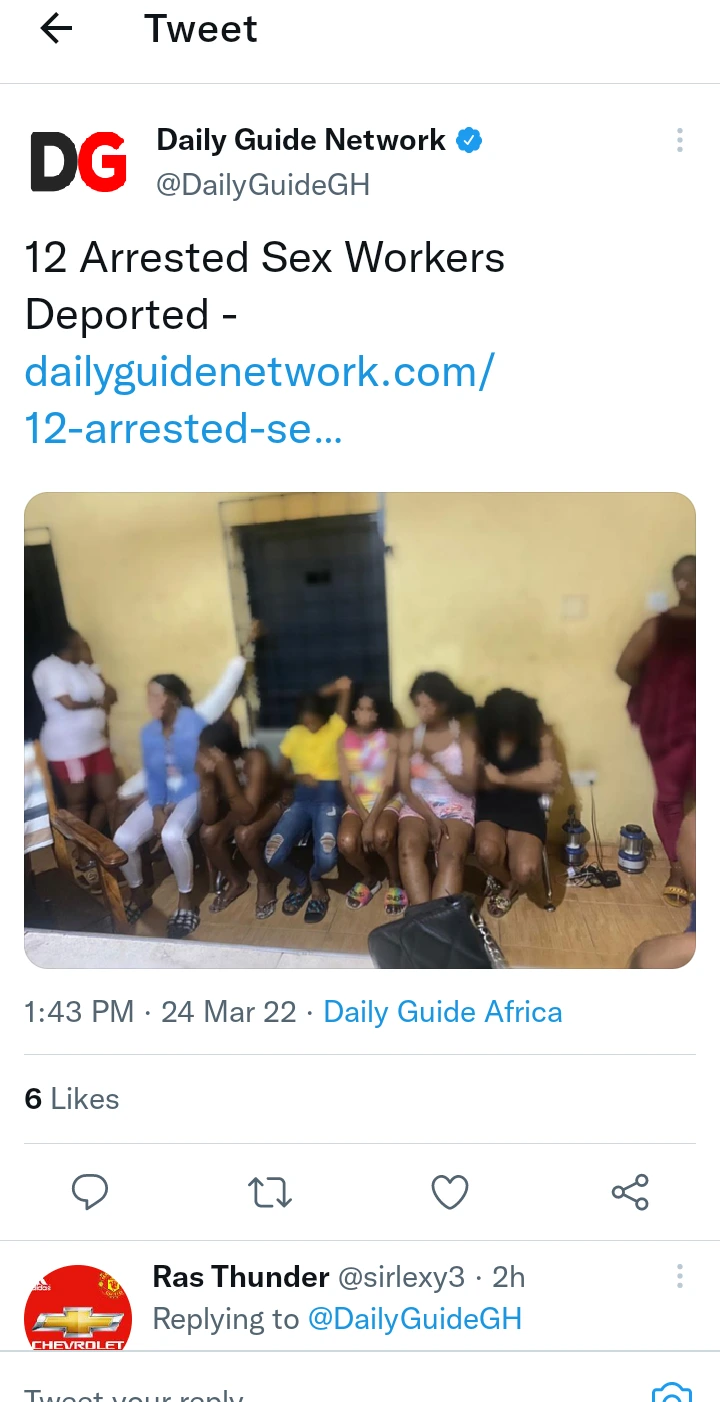 Screenshot of the Twitter handle of Daily Guide of Ghana as posted on Thursday
Also, Assistant Inspector (AII) Felix Klu-Adjei, Public Relations Officer of the Ghana Immigration Service (GIS) in the Volta Region, who spoke on the issue, explained that when the 12 ladies were received by the Immigration, they were profiled and interrogated after which they were deported to Nigeria on Thursday.
Upload Your Song
Click here to see more post about 👇
Be the first to comment