A Pastor's Warning to all Football Lovers
I am a big fan of professional wrestling. I watch and follow a lot of promotions from WWE to AEW and TNA, and I make a lot of posts about this sport on my social media pages so I can stir conversations with many fans. However, a few days back, someone sent me a private message chiding me for making a lot of my posts about the sport I adore, rather than the God I serve. It caused me to pause and think.
Mike Bamiloye has said the same thing about sports in general and football in particular. He said that it is not a sin to love football, but when it takes over your spirit, soul and body, then you are beginning to worship the sport, and it has become your idol.He declared that God is the one you are supposed to love with your whole body, soul and spirit, and not any sport.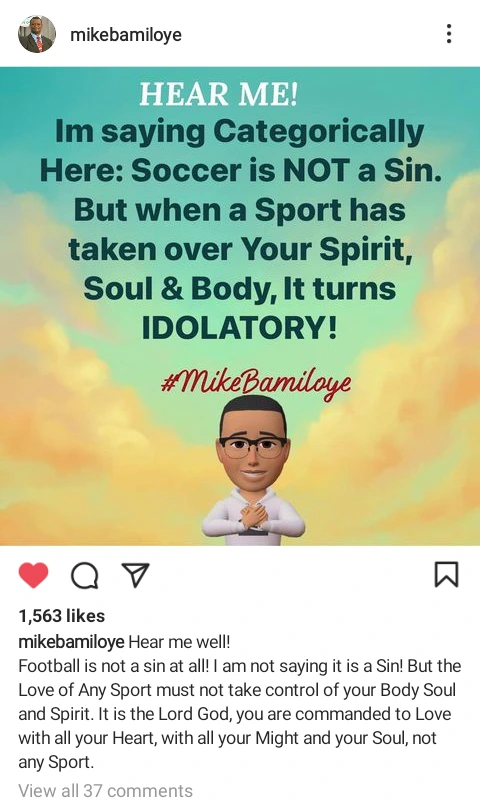 As Christians, I feel a lot of us, including me, fall victim to this sin. It has even gotten to the point where we treat our favourite superstars as gods to be worshiped. We are ready to rush to the defense of Messi and Ronaldo, (or in my case Seth Rollins, CM Punk and MJF), but we hesitate when we are required to stand up for God and share our faith with people who don't believe him.
Some people are even ready to miss church meetings and house fellowship gatherings if there is a football match on TV. They neglect the commandment not to forsake the gathering of brethren in order to gather with their "brethren" in sport.
Sport has made me refuse to enjoy quiet time with my father. I postponed my time for personal prayer and Bible study because something was live. I bet some of you have also fallen victim like me.If you fall into this category, you need to ask God for mercy and repent. Don't forget that God is a jealous God, and the first commandment he gave the Israelites was that they should not have any other god apart from Him. Repent and ask him for help to forsake your idol. Be blessed.
Upload Your Song
Click here to see more post about 👇
Be the first to comment